the finality of a thing is both devastating and clarifying. My time in Florence is running to a close. I want to soak up the moments with the views of the city. The strolls in small alleys. I still discover new places every time I am downtown and I can't get enough. I know there is more to explore, more to miss out on and more to live.
A week ago I went to see David again. The second time in a span of two weeks. By now I get no weak knees anymore when I come around the corner from the entrance and see him standing there under his coupola. As I went out, I turned to cast one last glance and I even audibly said: "Bye David, I love you," and totally bumped into someone in the crowded museum. Embarrassing. I've been wondering if it's terribly ridiculous to have these feelings for a marble piece. It almost feels like a crush. But it simply is the most amazing marble piece I have laid eyes on. I imagine Michelangelo - so young, so determined and probably afraid and terrified but also raptured and obsessed - a genius, an artist has to feel those feels when attempting a coloss like this. What am I trying to say? Simply it's really hard to say good bye to this city. I've started to work on my diploma work now with full swing and that means time is running out. That means, i soon won't just be able to walk up to David, go to the Uffizi or hang out in Boboli garden. Not that I actually get to do those things constantly. They are still special, because my time is rather taken up by work in the studio, but it's this thing of having something close, or available and then not having it.
Also it's a terrifying thought leaving and knowing how much more there is to learn. These past weeks I have seen my limitations so clearly. I am focusing on drawing now. No painting, which is heart wrenching, but I have to get my drawing skills tuned. Working with a teacher is both so good but also so difficult. The teacher helps you, where you get stuck and helps you finish a work. I am scared I won't be able to do anything like it without this help or crutch. So often I don't feel ready to leave. But simultaneously I know it's time to go. Maybe my drawings won't have the same quality for now. But they will be mine. I am excited to start actually creating more. Being an artist.
In the summer I will be in Norway and Germany and afterwards I will move to Nashville in Tennessee for a season. Maybe a couple months, maybe a bit longer. For now I want to have a good community around me and focus on creating a body of work. I have many hopes and dreams for the coming year and all these feels make these weeks bitter sweet.
My diploma work is on a biblical story in the book of acts, inspired by my travel to Malta in December. On this island the Apostel Paul got shipwrecked with a roman boat on which he was a prisoner, headed from Israel towards Rome for trial. Two weeks they were in a storm until they finally got stranded there. The process of developing the idea had been a painful one, I just had to lay my ideas down and learn from my teacher. It's a cowork really. He basically gave me the solution and now I am working it out. And he will help developing it. I am working now on my drawing, which is done on paper with Sepia. This is 2 m x 1,20 m. When this is done I get to work on colour studies and finally do a separate painting on canvas. I am very excited to have a brush in my hand soon. For now it's hard discipline with sepia pencil. I enjoy that as well, but it doesn't come as natural.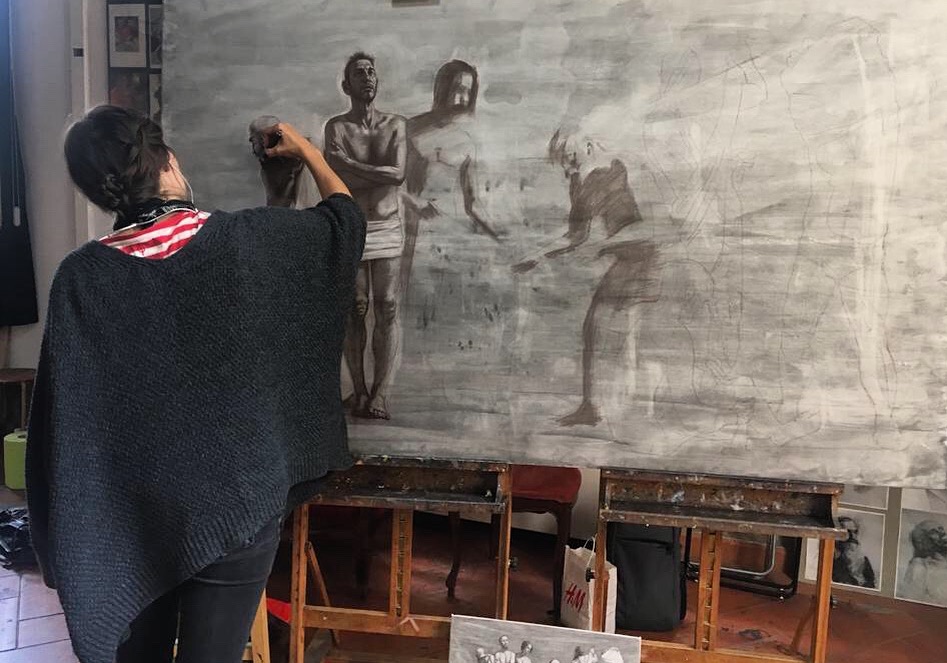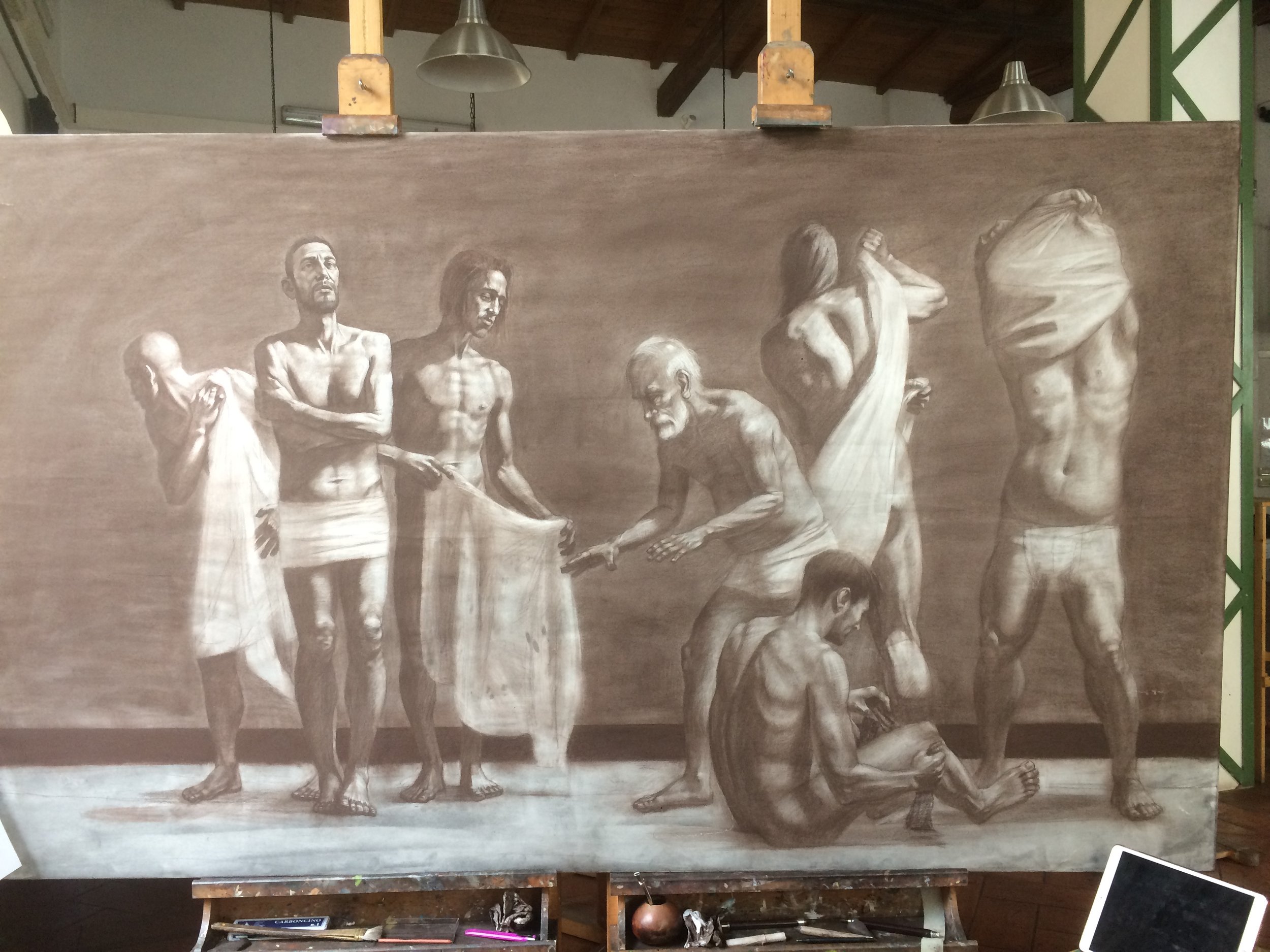 This is the status quo of today, it still needs a lot of polishing, developing and changing. Still very sloppy and rough. I keep you posted.
Fore more updates, follow my instagram stories!